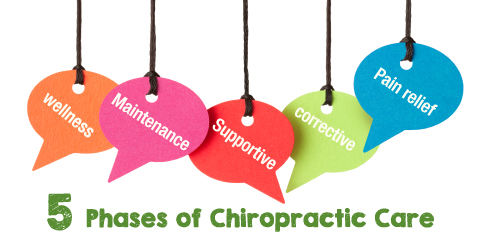 Chiropractic Care is a process not a pill. There are typically 5 phases of chiropractic care,wellness, maintenance, supportive, corrective and pain relief.
WELLNESS
Chiropractic care starts with a goal, wellness. Another way to put it is that you want to be the best that you can possibly be. Wellness is about maximizing your health in your current body and mind.
MAINTENANCE
When your body is in a state of wellness, the next phase is wanting to prevent future health problems from occurring. But your body care also regress, so chiropractic care helps old health issues from returning.
SUPPORTIVE
Hand in hand with the maintenance phase is the supportive phase. This is ongoing care to support the progresses you've made in your health.
CORRECTIVE
The process of returning a body to a healthy state must include fixing issues in the spine. This includes dealing with the spines alignment with the body and retraining muscular structures. This phase is not just about addressing immediate issues, but the foundation of good health,  your spine.
PAIN RELIEF
The 5th phase of chiropractic care is to live a life free from pain. Together these phases will make it possible to address chronic pain today and into the furture.