Team Vezendy
Since 2010, we've sponsored amateur athletes who embrace the entire athletic experience—training, racing, and community involvement—and want to share it with others. After all, since so much more time is spent preparing to compete than actually competing it only makes sense to enjoy the entire process, and not just focus on yourself and the finish line.
Beyond competition, TEAM VEZENDY members represent the values of Vezendy Chiropractic— they strive for excellence, are socially responsible, and uphold the highest standards of integrity. Our athletes are ambassadors for their sports and good citizens in the communities in which they live, work, and play.  TEAM VEZENDY is looking to offer sponsorship to new athletes and teams each year. If you are on a competitive team, or a competitive cyclist, mountain biker, triathlete, or runner, and feel you have the goods to become part of TEAM VEZENDY, click the Team Vezendy Athlete button below.
Q:  How can you receive sponsorship for your team or for you individually?
A:  This is an easy answer.  TEAM VEZENDY, the athletic division of Vezendy Chiropractic here in Cornelius, receives requests for sponsorship on a regular basis.  If you are on a competitive team, or a competitive cyclist, mountain biker, triathlete, or runner, etc and feel you have the goods to become part of TEAM VEZENDY, click the following link to connect with us: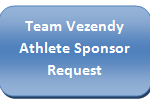 Another option, which is becoming popular, is our Team Vezendy Ambassadorship.  This is best for those who want to stay in shape and promote a healthy lifestyle in the community, but aren't looking to enter themselves in competitions.  For more information on this, click the following link to connect with us: